Easy access to a cost-effective cycle-to-work scheme
As part of a Government initiative to promote green transport, Workplace Bikes offers attractive savings to encourage employees to cycle to work.
Many employees welcome the opportunity to incorporate healthy exercise into their daily routine. Workplace Bikes encourages this by making it easier for employees to cycle to work, with a salary sacrifice arrangement providing savings on the cost of a bike and accessories.
Employees sign up to a 12 or 18 month hire agreement, either during an enrolment window of your choice or as an any-time benefit. We offer access to all of the UK's top bike brands, via Halfords and a network of hundreds of independent stores.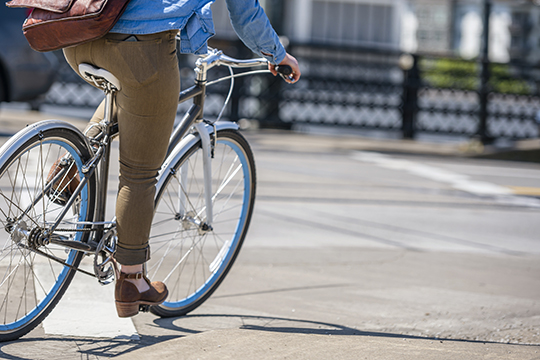 It's fast, easy and free to set up a Workplace Bikes scheme.
We offer full support at every stage, including expert HMRC-compliant salary sacrifice advice.
As well as generating savings for you and your employees, cycle-to-work schemes contribute to workforce wellbeing, assist with congestion and parking issues and help minimise carbon footprint.
Get on track with Workplace Bikes
Employees make tax and NI savings and get access to additional scheme benefits
Based on a bicycle with a retail price of £1,000 with an equivalent salary sacrifice of £83.33 per month, a basic rate tax payer could save up to 33.25% off the retail cost of their bike over a 12 month period. Higher rate tax payers can save even more!
Furthermore, by participating in the scheme employees gain access to a host of free extra benefits at Halfords stores and online, to help them get the most out of their new bike.
Lifetime safety checks on all cycles obtained through the scheme.
Lifetime guarantee on Halfords brand cycles (on forks and frames for the entire ownership of the cycle, even if this is 8 years after hire).
10% discount* on all things cycling with Halfords for 12 months.
Employees can opt in to 14 days free insurance.
Access to all in-store sale and promotional prices at Halfords and partner stores.
10% corporate discount* on everything in Halfords for all employees, not just those who are enrolled on the scheme.
Key benefits of Workplace Bikes
Fully managed service including handling employee queries, registrations, salary sacrifice arrangements and end of hire arrangements.
Extensive range of free marketing to maximise take-up, including on-site roadshows and dual-branded literature.
Easy order approval and clear payroll information, provided in line with your needs.
Standardised cycle pricing across the country, ensuring equality for employees.
Options for managing transfer of ownership at the end of the hire period.
Built-in facilities to cater for low earners, casual staff and under-18s.
Available as a stand-alone employee benefit or as an integrated part of a wider benefits package.
Helps improve staff motivation and engagement.